Bourgas and the region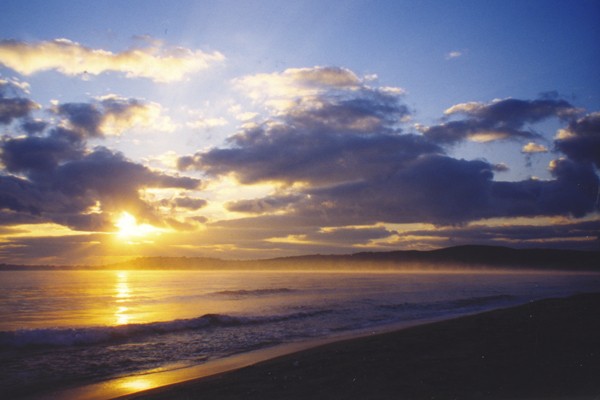 Bourgas is the fourth largest city in Bulgaria, situated in the south-eastern part of the country. The climate here is temperately continental with a distinct impact from the Black Sea. The Port of Bourgas is the biggest sea port in the country. A Duty Free Zone was established in 1989 with the objective to create most attractive conditions for foreign investors. The favourable geographical location and advanced transport infrastructure of Bourgas are good prerequisites for development of tourism and trade.
Bourgas is not only an important industrial centre in the country, it has also considerable resources for tourism. What attracts people here mostly is undoubtedly the sea. The city is a starting point for visiting the seaside resorts in the area - The Sunny Beach resort and The Elenite holiday village to the north and The Duni holiday village, renowned for its unique architectural compostition, Sozopol and Primorsko to the south. Art and culture, together with propagation of cultural values is fostered by 7 state-owned and 11 municipal institutes. On the territory of Bourgas municipality there are 2 universities and 4 colleges comprising more than 6200 Bulgarian and foreign students.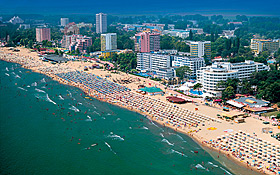 Sunny Beach is the biggest and most popular summer resort, with the longest and widest beach strip. It lies some 35 km north from the city of Burgas and benefits from fresh breeze and approx. 1,700 hours of sunshine from early May to late September. Thanks to this lovely combination the heat during the day is easy to bear and the nights are cool and pleasant.
Sunny Beach is a modern holiday destination with more than 200 hotels, 2 campsites and numerous places to enjoy your holiday: restaurants, taverns with folklore shows, night clubs, casino, discos and cafes. Here you can enjoy water skis and parachutes, surfing, hang-gliding and banana, as well as sailing, yachts, paddle boats, cutters, scooters, rowboats. Available are also tennis courts, beach volleyball, playing grounds, mini-golf, skittle alley, bowling, fitness halls, etc. For the children there is a wide variety of fun and games, children pools, slides, carting, Rolba water slide, inflatable trampoline, sport schools. There are also special discounts for children, children's menus, 24-hour kindergarten, etc.
The cultural programme of the resort includes the popular Golden Orpheus International Festival for Bulgarian Pop Songs, folklore and symphony concerts, exhibitions, Miss Sunny Beach contest, etc. Short excursions and off-road adventures are organized on a egular basis.
KEY FEATURES OF SUNNY BEACH RESORT
* long & wide semi-circular bay with an over 8 km long beach strip, natural dunes & a clean, gently sloping sea
* 1700 hours of sunshine from May trough September
* average daily temperature in summer 27°C
* 218 hotels with over 27 000 beds, holiday villages, campsites & serviced apartments
* more than 130 restaurants, entertainment and folk-style spots, night clubs, bars, discos, cafes medical and recuperation centres.
* open-air theatre & outdoor cinema
* shopping centre, arts and crafts bazaars
* regular boat and bus connections to the district centre of Bourgas - 35 km and Varna - 95 km
* low cost carriers to Bourgas and Varna
Currencies
| | | |
| --- | --- | --- |
| USD | - | 1.78419 |
| GBP | - | 2.65973 |
| EUR | - | 1.95583 |
Weather
| | | |
| --- | --- | --- |
| Sofia | - | 28 ° |
| Varna | - | 29 ° |
| Bourgas | - | 30 ° |
| Ruse | - | 32 ° |